Holly was the puppy we chose from Sutska's Christmas Day litter. She had a very successful puppy career. In July 1999 she won BPIS at Dundalk Ch Show, which qualified her for the finals of the "Irish Pup of The Year". This was followed by several BPIS and BOB wins at Open Shows. In September 1999 she won BPIB at Belfast Ch Show.
Although only lightly shown in 2000 due to a severe lack of coat she managed to win 2 Reserve Green Stars and 1 RCACIB before finally winning her first Green Star in November 2000 beating her mother into Reserve. She then took a break for maternal duties giving birth to a healthy litter of 7 on New Years Day 2001.
A slow maturer, Holly attended very few shows for the next 18 months. She returned to the ring in late summer 2002 when she eventually grew a coat and enjoyed more success. This culminated in her gaining her title in April 2003 and therefore becoming our first homebred Champion.
Since then although only shown infrequently Holly has won several Green Stars and BOB's with Group placings at both Ch & Open Shows.
She got her Stud Book number at Belfast Ch Show in 2003 when she was placed 2nd in Open Bitch class.
Holly was always the tomboy of the family and never sat still, but since her mum died she has settled down and has become her "daddy's shadow". However she is definitely the boss!!! Her favourite colour must be yellow as toys in any other colour are always chewed.
Achievements
BPIS: &nbsp&nbsp&nbsp&nbsp&nbspDUNDALK CH SHOW JULY 1999
BPIB: &nbsp&nbsp&nbsp&nbsp&nbspBELFAST CH SHOW SEPT 1999
BJIS: &nbsp&nbsp&nbsp&nbsp&nbsp&nbspDONEGAL CC OPEN SHOW MARCH 2000

44 x GREEN STARS
26 x RESERVE GREEN STARS
5 x CACIB
1 x RCACIB
1 x RCC
1 x Group 1
2 x Group 3

STUD BOOK NO: &nbsp&nbsp&nbsp&nbsp&nbspBELFAST CH SHOW SEPT 2003
TOP BITCH 2008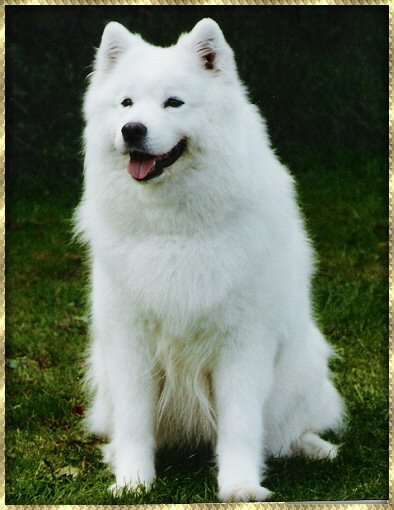 Pedigree of Ir Ch Kynoch Aurora of the Dawn